I'm still working on my soccer-themed kit. 
I have hit a few roadblocks along the way. It seems that items I'd like to add into my kit don't exist for CU elements, templates or scripts, so I've been having to get creative & in some cases make a few things or modify some templates on my own.
One thing I have not seen has been a scoreboard for soccer. So....I took my basketball scoreboard as a base (mostly for the size & shape) & re-tooled it to make an actual soccer scoreboard... which I'm offering you here today. Hopefully, I didn't do too bad of a job on it. 
I spent about 4 good hours yesterday making this template and I made a sample to go with it. I had it ready to go when it dawned on me that since the scoreboard is a bit 'darker', any shading I have done doesn't show up so nicely, so I had to add a few finishing touches, just in case.
Anyway, the zipfile contains one full- sized (1800 X 1200 px.) PSD template so it should work in any program you choose to use. 
When making this template, I didn't think to make a 'flat' version of it, so it is 'slightly' shaded, but I'm sure it can be re-worked to suit your own preferences. And it does have a few optional items you can remove, if you choose- basically, this template should be fully customizable. I also threw in a full-sized sample to kind of give you an idea of what the scoreboard looks like when it's all coloured & pretty- and you can use it in your kits as well, if you'd like.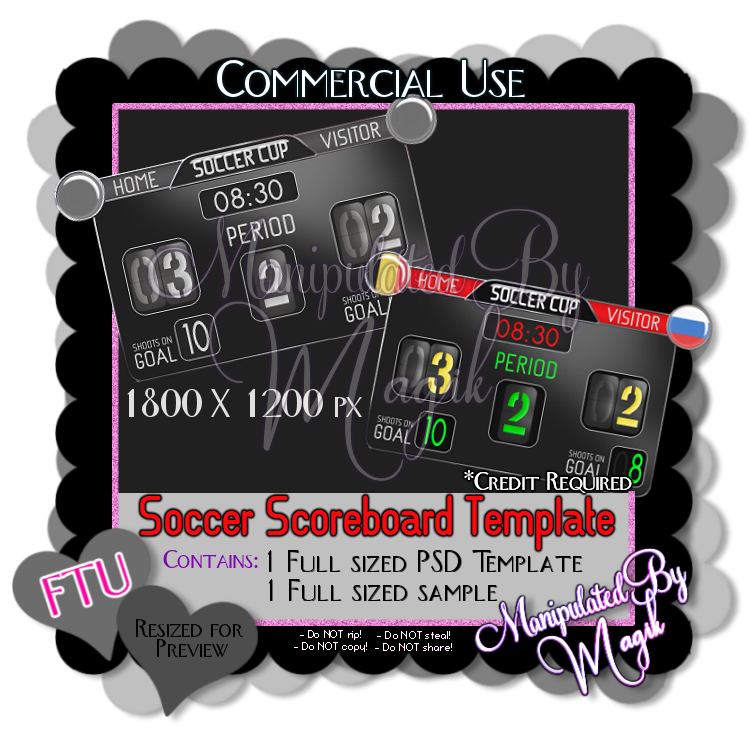 As with all my CU items (excluding styles),
I do require credit in your TOU or documentation in your kits.
Please don't share this template.
It's so much better to point people
to my blog for it & it keeps you out of trouble. 
You can download this template by clicking here:
Soccer Scoreboard Template
I hope you can make use out of this.  
Comments & thank yous are always appreciated.
It inspires me to make more freebies for you. 
Thank you for reading.