Original Post Date- 2/18/13, 6:45 PM Central Standard Time
First of all, I just wanted to say I'm not too big
on the colour green. It's never been my 'cuppa'. >.<
So for St. Patrick's Day I've only made 2 kits,
since I really don't think I could push a 3rd out of myself.
Now, normally, I try to make at least one freebie
add-on/ sampler kit now & then for those who
are unable to buy PTU kits for holidays, etc. 
I do this because I know all too well that sometimes
life hits hard & not everyone can afford to buy kits.
 
But, since I only made these 2 kits, 
I don't have a sampler to give away....
Instead, I have a complete kit I'm giving you. =)
Now, just so you know, I couldn't decide myself
on which one to give away, so I let my Creative Team vote
on which kit to give you all as a free gift, so you have to
thank them, too. ;)
 
With that being said, I present you with Bit O' Irish: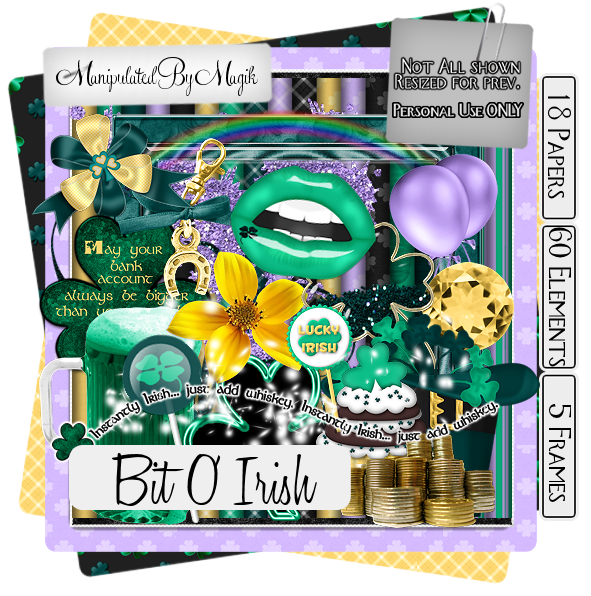 This kit is packed with lots of elements & papers
for some stunning St. Patty's tags.
And I hope that this kit will be enjoyed by all
of you who snatch it up. =)
You can download the kit here:
Bit O' Irish
I'm always thrilled to see your creations
with the items I offer you.
Feel free to send them to me at:
MagikD[@]live.com
(remove the brackets in my email.)
*hugz*