Hello! 
As promised, I have a FTU add-on kit to match with my newly released 'For The Love... Of My Cat' kit. 
 I'm posting it a little later than I had planned since I've been trying to get over having the flu.
But first, I just want to say that it's kind of disappointing that very few- and I mean VERY few- people take the time to show appreciation these days. 
I'm not one to complain much about people saying a simple 'Thanks' or 'Thank you' for the freebies I offer, but really it's disappointing to see the last few kits I've offered as freebies get hundreds of downloads & only 3- maybe 4- people take the time to show gratitude for those freebies. 
I know I don't have to offer the freebies, but I do to try to give back to the tagging community and to add a little positivity when I can. ..And maybe I shouldn't.
I have to ask myself if these same people who can download my freebies without a simple 'Thanks' also grab free samples at a store without saying 'Thanks' to the vendors who offer them. 
 It paints an interesting picture when you consider it. I can't imagine what those vendors think. 
The downfall is I'm not even sure this part of the post will be read or not... or if the people who download the freebies just look for the link to click without reading anything. 
 When did everyone forget manners... or gratitude? 
 And really, it's not just my blog I see this on- it happens to everyone else as well. 
Anyway, I had to rant. It's something that has been bothering me for quite a long time & seeing all the downloads today on my last few freebies just made me feel like the freebies aren't really appreciated. 
 So I may have to think about offering freebies in the future. 
BUT! Enough of my little rant. Let's get on with it....
This pretty little add-on contains 60 elements, 13 papers & 4 frames in the same colour palette as the PTU kit. The papers are 900 X 900 px.
*This is NOT an element kit & should be used as a personal use tagger kit, only.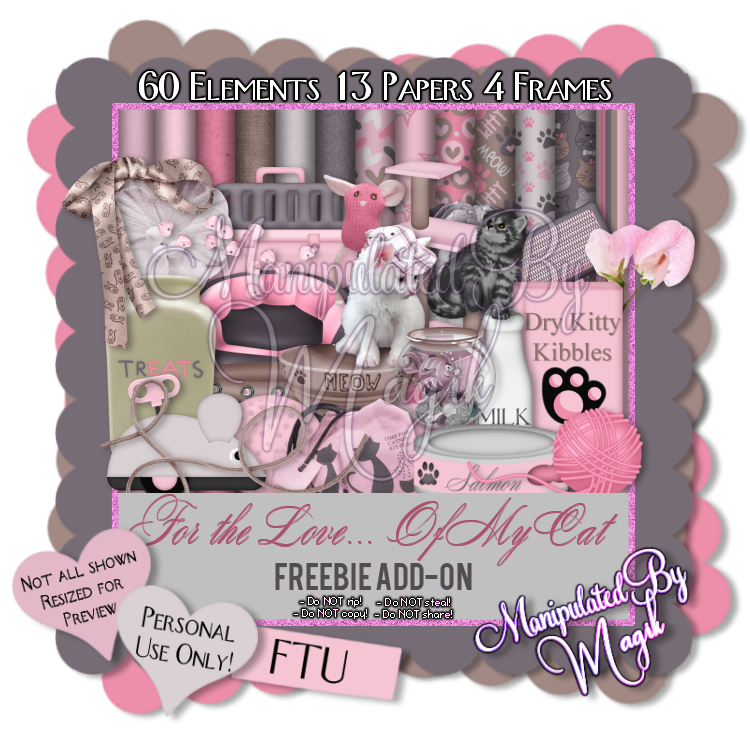 You can grab the kit from me here:
For The Love... Of My Cat FTU Add-On
I hope you all can enjoy this kit & have fun with it. 
*** Please respect my TOU in the zipfile-
NO sharing, NO ripping, no reselling, No stealing the colour palette & please NO claiming as your own.
Thank you. 
All I ask is PLEASE no sharing it in groups. Directing people to my blog to get it for themselves is much more appreciated.
...And you stay out of trouble that way. 
Of course, it goes without saying that comments & 'Thank You's' are always appreciated so very much. 
There's a comment box right over there on the right of this blog where anyone can post a comment. ------>
I enjoy seeing your creations with my kits.
You can send them to me at:
MagikD[@]live.com
(remove the brackets in my email.)
..And I'll get them posted for you in the Creative Cafe part of my forum. 
Thank you for reading & enjoy the kit. 
*hugz*