Good Morning! 
I have a new kit in my shop this morning. 
 This kit I'd started almost a year ago. I'd made the colour palette, made the papers, the frames & four of the elements... then I just kind of stuck it away & didn't work on it much afterwards. Part of the reason was I got busy reposting from my blogger over here...another was I wanted to make a couple Winter/ Christmas kits...and so it just kind of was forgotten. 
But... while looking through my folders I came across the kit & thought maybe I should finish what I'd started. It took me a couple weeks to get the kit put together, but at least it's finally completed. 
Anyway...about the kit:
'Gothic Pinup' is a dark, Goth or Halloween-ish kit with lots of goodies for your tags or timelines. This kit contains 115 Elements, 19 Papers & 8 Frames in pale lilac, purple, light, medium & dark blues & bluish-black. The papers are 900 X 900 px.
Along with this kit are three (3) Keith Garvey 'Sinister Suzie' tubes (counted as elements). The tubes are counted as separate elements in this kit, since they are different tubes. These tubes are NOT to be used with any other kits. Make sure you read the special TOU for the tubes & for crediting information when creating your tags. Thank you.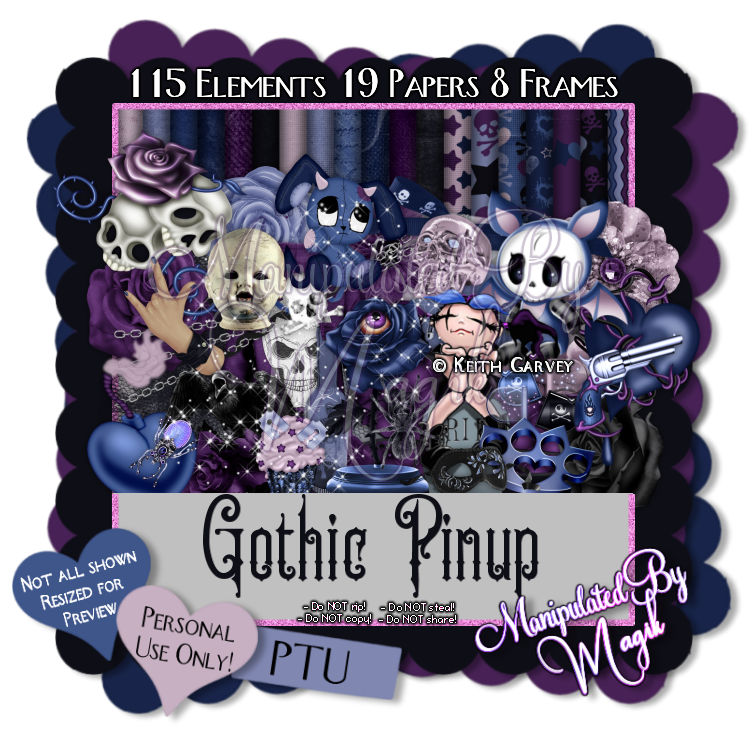 You can find this kit only in my 'shop', here, in the New/ Recent Released kits area. It will be moved later on into the Goth/ Occult themed kits category, but the link for it will not change. 
* Please note: You now MUST be a member of this site to purchase kits. My shop/ PTU kits are only available if you are a member of the site. You must be logged into this site before making any purchase of my kits.
** After your purchase, make sure you go back to the page to download your kit. You may have to refresh the page once or twice for the download link to show up.
 ...Or you can simply go to the main page of the shop (or even when you're in categories of the shop) & click on the Orders link in the upper right of the page. That will show you what kits you have bought & you can click on any in that list to download or re-download if needed (the kits may be in the order of when they were added to the store & not in the order of when you purchased the kit). I hope this makes sense. 
*** Please respect my TOU in the zipfile-
NO sharing, No ripping, no copying, No reselling, No stealing the colour palette & please No claiming as your own.
Thank you. 
As always, I enjoy seeing your creations with my kits.
You can send them to me at:
MagikD[@]live.com
(remove the brackets in my email.)
..And I'll get them posted for you in the Creative Cafe part of my forum. 
Thank you for reading, as always. 
*hugz*